Update: EXO announced they will be releasing their 4th repackage album The War: The Power of Music September 5th so I was off by 9 days. Which is great, cause that means we'll be getting new music from EXO sooner rather than later. ?
Original: EXO fans are still shook after the South Korean boy band posted some mysterious teasers earlier this week. It all started on August 21 when the group posted on their official Twitter account that the solar eclipse would hit the US at exactly August 21, 2017 09:06:43 AM PDT, which just so happens to be August 21, 2017 01:06:43 AM KST.
When the eclipse began, SM Entertainment released a Korean and a Chinese version of a teaser called "The Power of Music". The clips show an image of a solar eclipse and ends with a "message from EXO Planet" that reads:
"The power of music arises when the eclipse occurs."
The solar eclipse has been a long recurring and constant theme in EXO's concepts. It was featured prominently in their debut music video "MAMA", their pre-debut teasers, it was even featured on the album cover for Lay's solo EP Lose Control and in his music videos.
Fans have also noticed that EXO's music videos and albums tend to be released on days when a solar eclipse happened in the past or is predicted to take place in the future (photo courtesy of Pannchoa).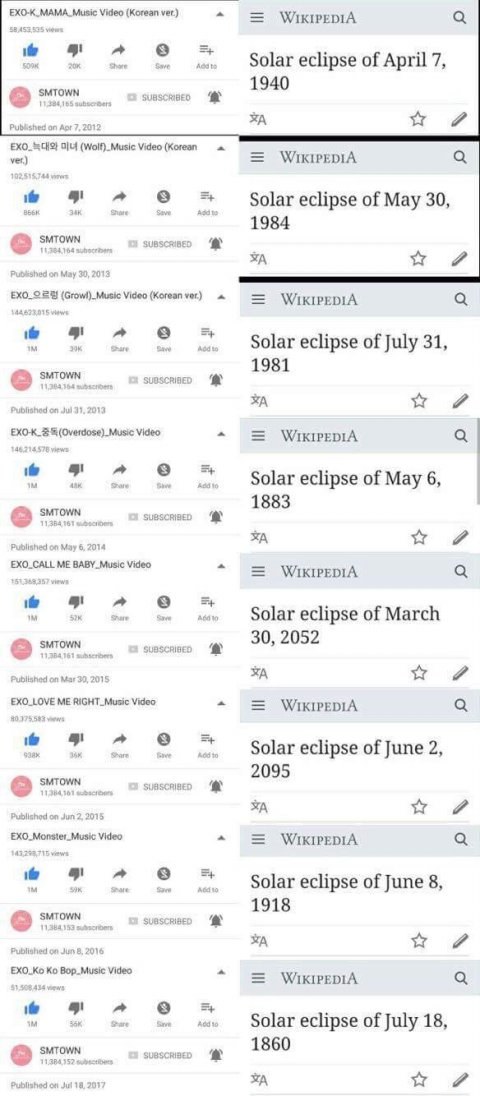 (insert image here)
Now if all of this is true, we should be able to predict when EXO will be making their grand comeback. It's already been confirmed that EXO will releasing a repackaged version of their blockbuster album fourth album The War in September. I did some research and found the dates of when a total solar eclipse was suppose to take place in September:
September 10, 1923
September 12, 2072
September 14, 2099
September 23, 2071
My guess is that EXO will be making their comeback on September 14. I was originally thinking it would be on the 10th, but my gut is telling me that SM will probably want to time EXO's comeback to when BTS returns with new music on September 18 (a little competition never hurt anyone).
Also, assuming they will do a full 3-4 weeks of promotions this time around, EXO will probably want EXO to be done with promotions for the repackage album before Chuseok begins. Chuseok is a major South Korean holiday, the equivalent of Thanksgiving in the US and will last October 3 – October 6.
Guess we'll see in a few weeks!
  The War
Don't forget to download EXO's latest album The War on iTunes, buy the physical CD and stream the album on Spotify: